John O'Halloran Mental Health Symposium – the power of visible leadership
WRITTEN BY Sue Flatto
POSTED ON June 25, 2019
The John O'Halloran Mental Health Symposium is a very personal experience for me. I knew John and his wife Linda very well. Back in the day when wives accompanied their partners at company events, it was always fun to spend time away with them. It's tragic that their lives ended so early.
John took his own life four years ago and the Symposium, founded in his memory, seeks to tackle the stigma of mental illness and promote positive mental health in the property industry. Last week's event, the fourth held in London, hosted by British Land and enabled by LionHeart, demonstrated how the mental health agenda is now firmly established in boardrooms across the property industry.
Chris Grigg, CEO British Land, and Dan Labbad, CEO Lendlease (shortly to take over the CEO role at The Crown Estate) both spoke very personally about their commitment to mental health and the importance of integrating this into company culture and workplace practices.
Grigg's talk was based around three pillars.
The first, he said, was "recognition and responsibility". Questions businesses must ask themselves included how big an issue is it and whether they were set up to help? He recognises that most people are not experts and should definitely not try to be amateur psychologists.

Secondly, mental health issues cannot be addressed in isolation, he said. They need to be tackled as an integral part of a company's culture and values. He explained how British Land has changed its ethos from a business which prioritised the purely financial to one driven to create "Places People Prefer". He believes this has led to broader debate inside the company around what is our purpose? and how can each contribute?. Recognising individual differences is integral to this. Team members are encouraged to "bring your whole self to work", a discussion kick started by the LGBT community and embraced from the boardroom and now across the entire business.
His third pillar is "leadership", he explained, because it brings consistency, allows programmes to be rolled out across the business and encourages frameworks and training. It helps people understand that they can ask for help – and know from where they can get it.
Dan Labbad also demonstrated the power of visible leadership. He told how he never gives a speech without mentioning mental health. He shared the shocking statistic that 40 people a year die in work-related accidents on construction sites, while 360 people take their own lives. Lendlease now compiles suicide statistics in its company and supply chain and these are reported to the Board.
Lendlease is proud that it is "bringing emotion into the workplace". The company offers employees four "wellbeing days" per year and has trained around 400 people in mental health first aid. At 47 and at the height of his career, Labbad took paternity leave after the birth of his child, setting the example to the rest of the company; "if the CEO can do it, so can board members, managers and all the other staff" he says. Looking to the future, his ambition is to build wellbeing into property developments and for example, to look for practical ways to use place-making to reduce loneliness.
Bill Hughes, from Legal and General, talked of his company's efforts to end the stigma of mental illness and L&G's collaboration with Beyond Sport. The campaign, "it's not a red card" offence to talk about mental health has helped to transform people's willingness to speak up.
Helen Gordon, CEO Grainger plc, spoke of Grainger's 24-hour counselling line, the My Wellness programme and shared a story that everyone will remember. In a safety briefing on a plane, she said, you are advised to "put on your own oxygen mask first, before helping others". It's an analogy which applies to mental health at work, she insisted. You cannot help others if you do not look after yourself first.
I feel proud that John O'Halloran's memory lives on and that the British Property Federation has chosen to partner with the initiative. Ultimately this is all about helping and respecting each other's differences. This was perfectly demonstrated by RICS Lionheart Mental Health Ambassador, Owen Gower*, whose talk was both inspirational and heart-rending. He told his personal story of being misdiagnosed with depression (when he was in fact bi-polar) with humour and pathos.
The 100 strong audience at British Land's Storey Club in Paddington were profoundly grateful that he has lived to tell the tale.
Sue Flatto is a director of RealService
You can read more about the John O'Halloran Initiative, co-founded by RealService MD, Howard Morgan, at https://www.lionheart.org.uk/john-o-halloran and about Owen Gower's story at https://www.lionheart.org.uk/blog/the-one-about-the-bipolar-surveyor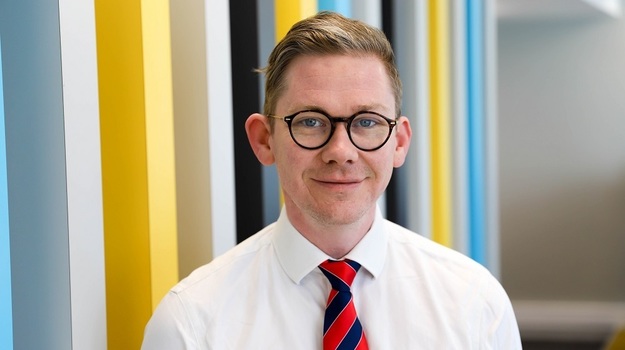 * Owen Gower MRICS is a facilities management professional working for Sheffield Hallam University. He was the 2014 winner of the RICS Matrics Young Surveyor of the Year (FM category). He is one of LionHeart's mental health ambassadors.